Brain Injury Representation For Central Louisiana Injury Victims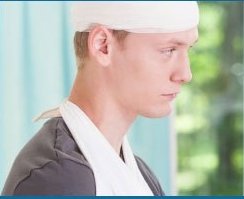 Medical specialists are beginning to learn a lot more about the serious brain injuries that can occur in an accident. Studies have shown that the head does not need to actually hit the windshield, ground or other hard surface for a concussion to happen. Even a sudden whipping motion can cause a deceleration injury, when the brain compresses against the inside of the skull.
If you or a loved one has suffered a head wound and diagnosed brain injury in an accident in central Louisiana, Siegfried Law Firm is ready to help. I have nearly 25 years of experience handling complex medical cases on behalf of victims of negligence. I understand the legal issues and work with a network of independent medical, neurological and life-care specialists to prepare your case to win in court, if trial becomes necessary.
Call my office at 620-429-0476 or contact me by email to arrange a free consultation to discuss your case with an experienced Alexandria brain injury attorney. From offices in Alexandria, I represent clients in parishes throughout central Louisiana. I handle all personal injury cases on a contingency fee basis. You will pay NO attorneys' fees unless I help you recover monetary damages.
Brain injury claims often come with the added difficulty of overcoming skepticism by the insurance company and potential jurors. Having the right medical experts assisting with evidence and details is critical. I will not sit down with the insurance lawyers to begin negotiating a settlement until I am confident that the evidence is clear and concise and strongly demonstrates that you have suffered a very real and life-altering brain injury.
Neurosurgeons often say that a traumatic brain injury (TBI) may be the first injury to occur in a motor vehicle accident, but the last to be diagnosed. Symptoms of TBI can take days and weeks to become evident. The injury victim may not recognize delayed cognition, memory loss or a change in personality until a family member, friend or co-worker points it out. While not all brain injuries result in coma or permanent neurological damage, nearly any type of TBI is considered long term and potentially life-changing.
Serious and permanent brain injuries often result from:
Surgical errors, medical negligence, anesthesiology errors
Motor vehicle accidents, motorcycle, auto and truck wrecks
Industrial accidents
Head injury from falling equipment, products or material
Nursing home accidents, falls and transport injuries
Maritime accidents
Explosion injuries
Severe electric shock
Communication is the hallmark of my law firm. Throughout your case, I will be available and responsive to your calls and questions. As a solo attorney, I offer the advantage of being able to work directly with my clients.
Central Louisiana Personal Injury Lawyer
Will the lawyer you hire really make a difference in the outcome of your case? It will cost you nothing to get your questions answered by an experienced personal injury attorney. I offer a free consultation to explain your legal options. You pay no attorneys' fees unless I help you recover monetary damages in a settlement or trial verdict. Call us at — 620-429-0476. You can also use the convenient contact email form to send me details about your case.
Free Consultation & No Attorneys' Fees Unless I Help You Recover Money
My office hours in Alexandria are 8 a.m. to 5 p.m. weekdays, and I will make evening and weekend appointments by special arrangement. If your injuries or circumstances won't allow you to travel, I can make arrangements to meet at a time and place convenient for you and your family.