Experienced 18-Wheeler And Commercial Truck Accident Attorney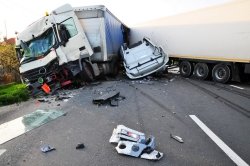 The U.S. Department of Transportation reports that in a typical year in Louisiana, more than 3,000 large commercial trucks will be involved in wrecks, including nearly 2,000 crashes that result in more than 2,500 injuries and deaths.*
The Federal Motor Carrier Safety Administration (FMCSA) oversees all regulations regarding the training, maintenance and operation of commercial trucks on Louisiana roads and highways and federal interstates. Many truck accidents are either a direct result of violations of FMCSA regulations or a violation contributed to the cause of the accident and the extent of injuries or death.
A Louisiana Trial Attorney To Protect Your Rights When Your Safety Was Compromised
If you were injured in an accident involving an 18-wheel tractor-trailer or another type of commercial truck or delivery van anywhere in Louisiana, call Siegfried Law Firm.
I have been protecting the rights of people injured in truck and other types of motor vehicle accidents in Louisiana for nearly 25 years. I work with independent experts to investigate and decipher the truck's "black box" engine and performance data, reconstruct the accident and determine the full extent of monetary damages you are entitled to for a lifetime of medical care and financial losses. I won't sit down to begin negotiating a settlement until I have the evidence in hand to win in court.
Truck accident litigation can take many months and even years to resolve in a settlement or trial. Communication is the hallmark of my law firm. Throughout your case, I will be available and responsive to your calls and questions. As a solo attorney, I offer the advantage of being able to work directly with my clients.
Call my office at 620-429-0476 or contact me by email to arrange a free consultation to discuss your case with an experienced Alexandria truck accident attorney. From offices in Alexandria, I represent clients in truck accident cases throughout Louisiana. I handle all personal injury and insurance litigation cases on a contingency fee basis. You will pay NO attorneys' fees unless I help you recover monetary damages.
Learn more at my Causes of Truck Accidents information page.
Call me to discuss the circumstances of your truck wreck personal injury or wrongful death case. I handle any type of truck accident, including those involving:
FMCSA violations, logbook violations

Truck driver fatigue or falling asleep at the wheel

Distracted driving involving texting, a cellphone or a two-way radio

Overloaded trailer, unsecured load

Improper truck maintenance

Truck driver speeding, reckless driving
Louisiana 18-Wheeler And Commercial Truck Injury Attorney
Will the lawyer you hire really make a difference in the outcome of your case? It will cost you nothing to get your questions answered by an experienced personal injury attorney. I offer a free consultation to explain your legal options. You pay no attorneys' fees unless I help you recover monetary damages in a settlement or trial verdict. Call us at — 620-429-0476. You can also use the convenient contact email form to send me details about your case.
Free Consultation & No Attorneys' Fees Unless I Help You Recover Money
My office hours in Alexandria are 8 a.m. to 5 p.m. weekdays, and I will make evening and weekend appointments by special arrangement. If your injuries or circumstances won't allow you to travel, I can make arrangements to meet at a time and place convenient for you and your family.